Home
UK Ag Equine Programs
The mission of the program is to discover, share and apply new knowledge on the health, performance and management of horses, enhancing the signature status of Kentucky's equine industry.
About Us
The horse is at the heart of everything we do.
Innovation through industry-inspired science
Culture of known research excellence with an established track record of innovation and service. Multidisciplinary teams of nutritionists, animal and plant scientists, engineers, microbiologists, veterinarians, economists and social scientists. Horse and rider safety knowledge center through sports medicine, surface and pharmacology research.
Empowering horse owners
Extension services for horse owners and farm managers. Youth and adult equine education through 4-H and outreach programs. Services for horse pasture management, Veterinary Diagnostic Laboratory, genetic testing, facility optimization, drug testing and race track and performance surface testing.

Turn your passion into a career
Four-year bachelor's degree, specializing in science, business or communications and leadership. Path to professionalism progression each year, leadership opportunities, internships, study abroad and nearly a dozen clubs and teams to choose from.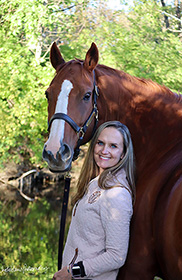 Sarah Coleman named 2022 Friend of UK Ag Equine Programs
When Kentucky's horses need her, Sarah Coleman is there. From helping with recovery efforts following a destructive tornado in Western Kentucky, to organizing the delivery of vital supplies after historic flooding in Eastern Kentucky less than a year later, she is often on the front lines helping horses in need. Whether it's a vaccination and gelding clinic, first responder training for large animal rescue efforts or hay assistance to horse owners, Coleman is one of Kentucky's go-to people for equine wellbeing.  

Second Annual UK Horsey Hustle is April 1
Everyone is welcome to join us at the 2nd annual UK Horsey Hustle 5K Run/Walk presented by UK Ag Equine Programs and the Wildcat Wrangler equine student ambassador team. Funds raised from this event will support the new UK Ag Equine Programs' Student Experience and Applied Education Fund.
$3 Billion
Economic Impact
Kentucky is home to 242,400 horses with an economic impact of almost $3 billion, according to the UK-led 2012 Kentucky Equine Survey.
6 of 10
Vaccines
6 of the 10 most commonly used equine vaccines were developed at UK, and every dewormer on the market underwent efficacy studies at UK.
Premiere
Student Destination
With 306 current students and close to 500 alums from the program, which started in 2007. 75%+ of students come here from out of state; almost 60% of these stay in Kentucky after graduation.