Alfalfa Included in Second Round of Coronavirus Food Assistance Program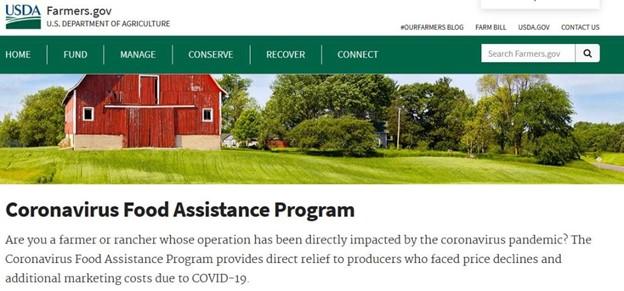 Alfalfa has been included in the U.S. Department of Agriculture's latest expansion of the Coronavirus Food Assistance Program. Recently, USDA announced an additional $14 billion for farmers who continue to face market disruptions and associated costs because of COVID-19.
The Coronavirus Food Assistance Program 2 (CFAP 2) provides farmers of eligible commodities with financial assistance that gives them the ability to absorb some of the increased marketing costs associated with the COVID-19 pandemic.
A list of CFAP 2 eligible commodities can be found by clicking here (https://www.farmers.gov/cfap/tool). Alfalfa is included under the "Flat-Rate Crops" category which includes crops eligible for a $15/acre payment for all acres certified to that commodity for 2020.
USDA's Farm Service Agency will accept CFAP 2 applications from Sept. 21 through Dec. 11, 2020. Information on how to apply for CFAP 2 funding can be found here.
Farm Service Agency staff at local USDA Service Centers will work with farmers to file CFAP 2 applications. Farmers can also call 877-508-8364 to speak directly with a USDA employee ready to offer assistance at the CFAP call center. Visit farmers.gov/cfap for additional information on CFAP 2 eligibility, payment limitations, structure and how to apply.
---
Source: Oct. 1 Kentucky Forage News