Jacquay named MARS EQUESTRIAN Scholar at the Gluck Equine Research Center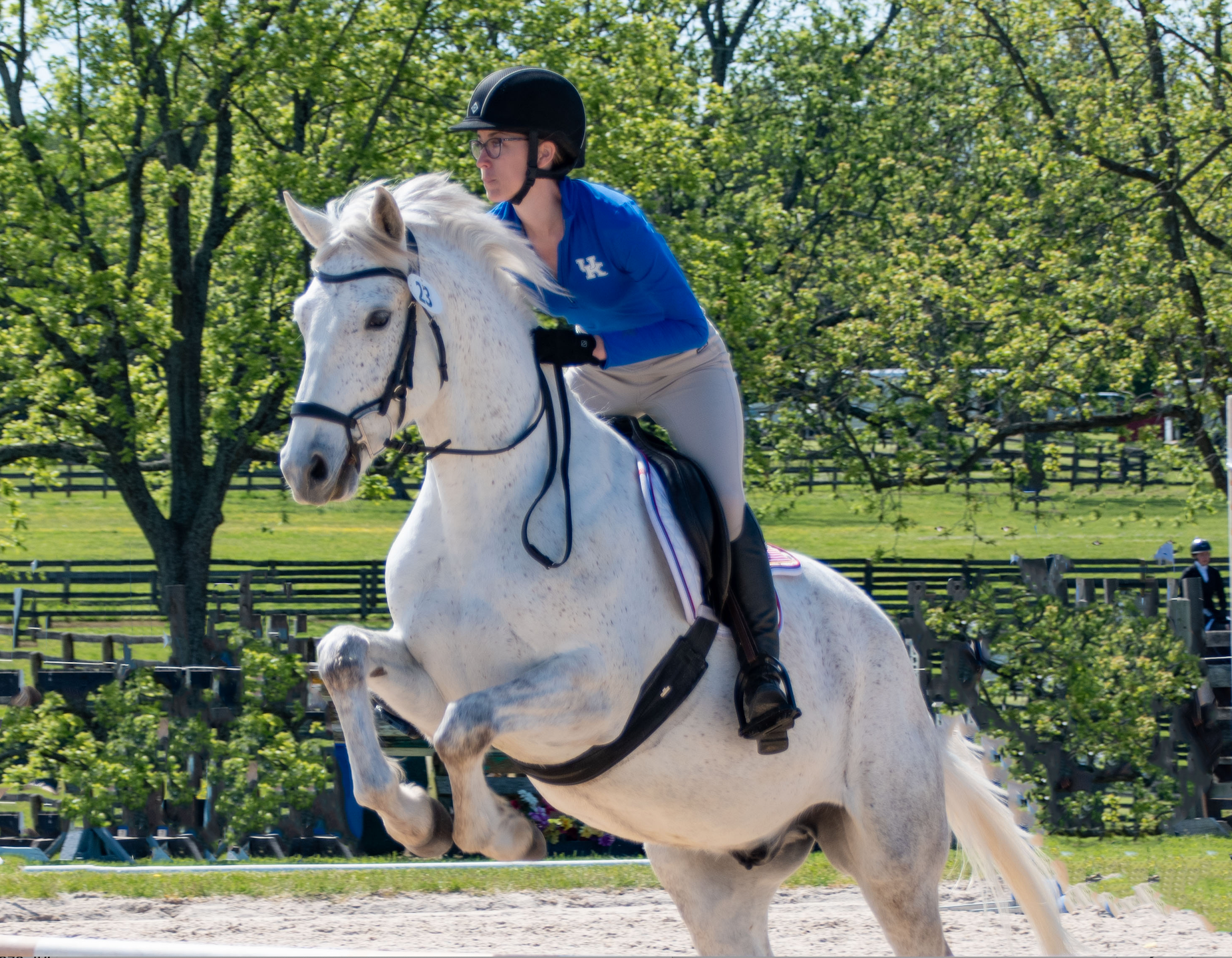 Erica Jacquay, graduate student under Amanda Adams, PhD, MARS EQUESTRIANTM Fellow and associate professor at the University of Kentucky Gluck Equine Research Center, was recently awarded support by MARS EQUESTRIAN for her research program.
"We are thrilled and very grateful to MARS EQUESTRIAN for their support of this research, which will help improve the health and well-being of the horse, a goal of both MARS EQUESTRIANand the Gluck Center," Adams said.
Jacquay earned her Bachelor of Science in animal and dairy science from Virginia Polytechnic Institute and State University and her Master of Science from Kansas State University in animal science.
Jacquay said she first became involved in equine research while interning at the MARE Center in Middleburg, Virginia. During her time in Kansas, she focused on equine reproduction, studying changes in the mare and foal fecal microbiome from birth through weaning, as well as the effect different weaning methods had on the fecal microbiome.
After completing her master's degree, she moved to Pennsylvania for a year to breed, foal and train Connemara ponies in dressage. In 2018, she moved to Lexington, Kentucky, to work in the reproduction unit at Spy Coast Farm, where she also coordinated ongoing research projects with UK. Prior to beginning her doctorate at UK, Jacquay also worked at EDS, where she performed serology/PCR testing for equine diseases. She started in Adams' lab in August 2020.
Jacquay's research program objectives include conducting a nationwide survey on common reasons for transporting horses and management practices associated with different types of travel, particularly with respect to road transportation of three hours or less. She aims to determine the impact of short-term transportation on stress and immune function in horses.
Through this study, she also plans to determine if there are differences in how transportation stress manifests in different classes of horses, including aged horses and horses with Pituitary pars intermedia dysfunction (PPID, also commonly known as equine Cushing's disease), Equine Metabolic Syndrome (EMS) or insulin dysregulation (ID, a condition where horses have either increased levels of insulin in their blood or abnormal insulin responses to a meal).
The work will be undertaken in collaboration with Bridgett McIntosh, PhD, director of MARS EQUESTRIAN and Pat Harris, PhD VetMB DipECVCN MRCVS, EBVS® European specialist in veterinary and comparative nutrition and member of European College of Veterinary and Comparative Nutrition, from Waltham Petcare Science Institute.
"This research is novel and important, given that horse transportation is an integral part of the industry, whether it be for competition, leisure, breeding or veterinary purposes," Adams said.
Through this work, she hopes to develop non-invasive methods horse owners can implement to measure and monitor stress as well as key health parameters in horses during transportation.
"By being aware of travel stressors and taking steps to minimize their impact, we hope to help owners to help their horses arrive in good condition after short-term transportation," Adams said.
About the Gluck Center
The mission of the Gluck Center is scientific discovery, education and dissemination of knowledge for the benefit of the health and well-being of horses. Gluck Center faculty conduct equine research in seven targeted areas: genetics and genomics, immunology, infectious diseases, musculoskeletal science, parasitology, pharmacology, therapeutics and toxicology and reproductive health. The Gluck Equine Research Center, a UK Ag Equine Program, is part of the Department of Veterinary Science in the College of Agriculture, Food and Environment at the University of Kentucky. 
About MARS EQUESTRIAN™
MARS EQUESTRIAN™ Sponsorship, funded by Mars, Incorporated is the link between our iconic brands and the equestrian community. For generations, Mars has celebrated a rich equestrian heritage, and through purposeful partnerships, MARS EQUESTRIAN is committed to the sport and building an enduring legacy. From world-class competitions across all equestrian disciplines, to stewarding the power of horses on society and sustainability, the MARS EQUESTRIAN Brand is dedicated to our purpose to improve the lives of horses, pets, and the people who love them. For more information please visit www.marsequestrian.com and join us @marsequestrian. Improve the lives of horses, pets, and the people who love them. For more information, please visit www.marsequestrian.com and join us @marsequestrian.
About the Waltham Petcare Science Institute
The Waltham Petcare Science Institute is Mars Petcare's pet research center. Our work focuses on the nutritional and behavioral needs of pets, as well as preventive health. We use this knowledge to support development of innovative products and services, advancing science to deliver our Purpose: A BETTER WORLD FOR PETS™. The WALTHAM™ Equine Studies Group, which is headed by Professor Pat Harris, MA, PhD, VetMB, DipECVCN, MRCVS, is dedicated to advancing the science of horse nutrition and provides the scientific support for  Mars Horsecare globally including the BUCKEYE™ Nutrition, SPILLERS™, and WINERGY™ brands. By collaborating with key research institutes and universities around the world its work remains at the forefront of equine nutritional science.
---
Holly Wiemers, MA, APR, is communications and managing director of UK Ag Equine Programs.