UKVDL Confirmed Leptospiral Abortion Update
In a Dec. 22 bulletin, a timeframe past the mid-point of the 2021-2022 equine reproductive cycle, the University of Kentucky Veterinary Diagnostic Laboratory provided an update on confirmed leptospiral abortions submitted to the UKVDL by Kentucky horse farms.
As of Dec. 22, the UKVDL has confirmed 10 leptospiral abortions for the 2021-2022 foal crop. A 10-year plot of equine leptospiral abortions follows (a total of 97 aborted foals):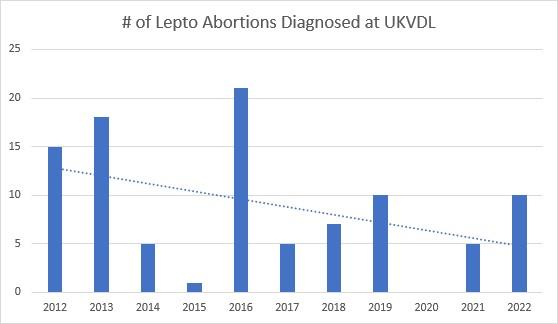 According to the bulletin, the first licensed vaccine against leptospirosis was released in the fall of 2015. Since that time, there has been a downward trend for the incidence of leptospirosis abortions based on UK VDL cases. To date, there have been no controlled studies to determine a statistical difference between farms that are vaccinating versus those not vaccinating. 
For the 2019-2020 foal crop, the laboratory confirmed zero foal abortions. According to laboratory archives, this has not happened for at least 20 years in Kentucky. 
The UKVDL conducted a 20-year retrospective study on foal abortions diagnosed from 1993-2012 which identified 541 positive for leptospirosis (see the annual episodic curve by month below).  A farm follow-up study conducted for foals aborted during the 2006-2007 foal crop determined that the average loss was $189,000 per foal. Assuming that has not changed, the losses for the last 10 years would be $18 million. Further studies are needed to reassess this data.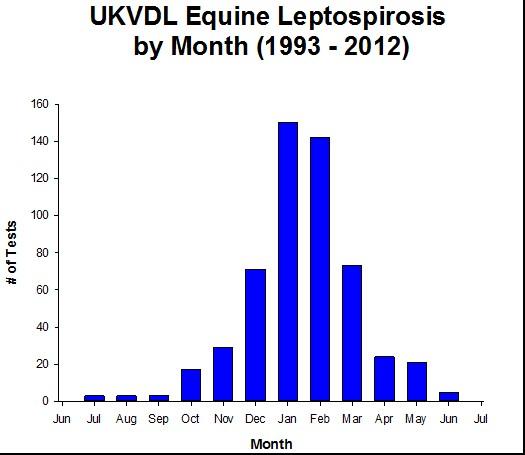 Those interested in following near-real-time data regarding leptospiral abortion and many other animal diseases identified in the laboratory, visit interactive mapping apps at the links below. 
http://vdl.uky.edu/EpidemiologyInformation.aspx – Home page, access to mapping and data for all species.
http://vdl.uky.edu:8080/informer/DashboardViewer.html?locale=en_US&embedToken=f6d47393-13ac-4ea0-b9e4-3d9f6fa0feb5 – Equine leptospiral abortions by county this year and past years.
---
Information provided by Jacqueline Smith, PhD, Epidemiologist, UK Veterinary Diagnostic Laboratory.