UK Forage Extension YouTube videos can help producers work through issues this spring
The KYForages YouTube page has more than 250 educational videos to help forage and livestock producers improve their operations, particularly during this time of social distancing.
Katie Pratt is an agricultural communications specialist with UK's College of Agriculture, Food and Environment.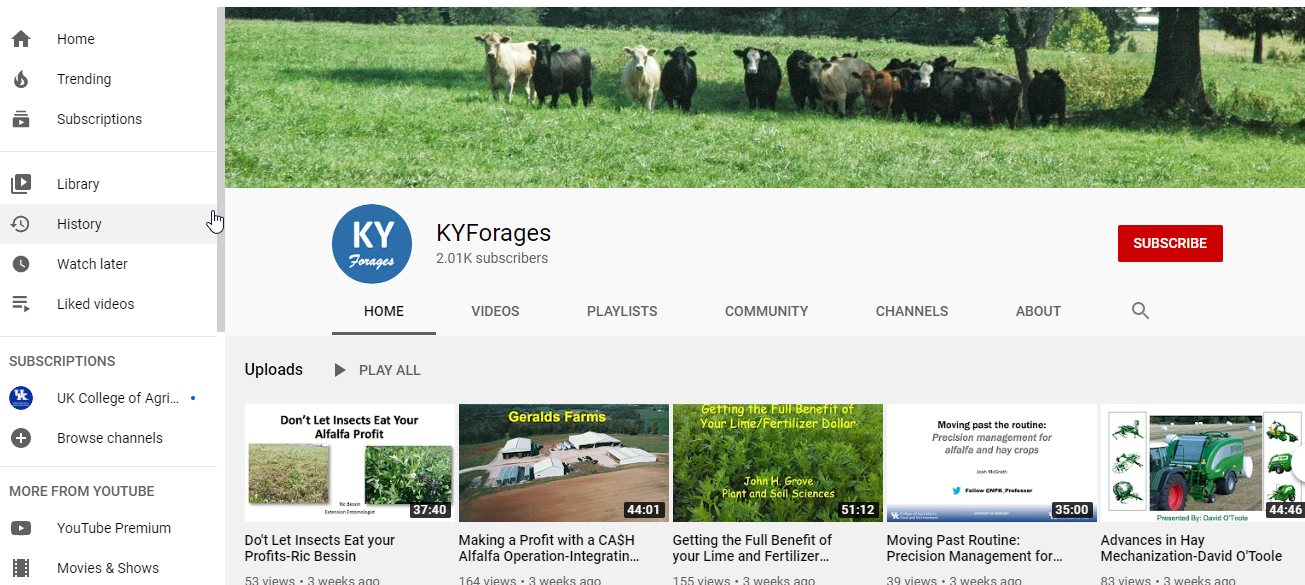 Spring is a busy time for livestock and forage producers. Producers are turning animals onto pastures, renovating fields that need a little TLC and preparing for the first cutting of hay. While the COVID-19 pandemic has changed the way University of Kentucky forage and livestock specialists connect with producers, they are still available to serve them.
"Although our delivery method may be a little different than normal, we are working closely with our county extension agents to provide relevant and timely information to producers throughout the commonwealth," said Chris Teutsch, PhD, forage extension specialist in the UK College of Agriculture, Food and Environment.
While specialists are working with their clients via phone, email and through agents, producers can find educational information to help them troubleshoot problems or just get them thinking about new ideas for their pastures at UK forage extension's KYForages YouTube page. The page is located at https://www.youtube.com/c/KYForages or using the search term "KYForages YouTube" through an internet browser.
The page features more than 250 instructional videos with numerous College of Agriculture, Food and Environment specialists. Specialists walk producers through all aspects and issues related to livestock and forage management. Presentations from UK forage events from the past five years and virtual tours of Kentucky producers' farms are additional features on the page.
"With nearly 2,000 subscribers, the KYForages YouTube page is one of the most visited forage production pages in the country," said Ray Smith, PhD, professor and extension forage specialist in the Department of Plant and Soil Sciences. "Producers who find themselves spending more time at home these days may want to check out some of the excellent presentations given at past UK forage and livestock events and view how-to videos that can help them improve their operations."