Matt Koch named 2016 Friend of UK Ag Equine Programs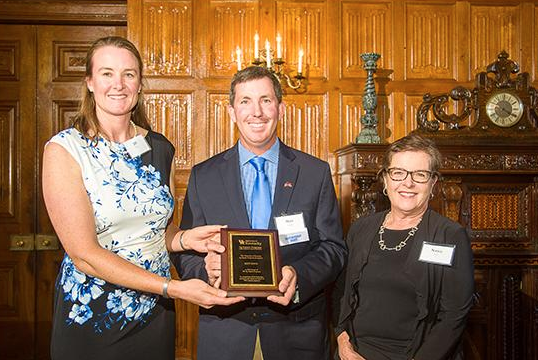 Some of the most valuable educational experiences occur outside the traditional campus classrooms for University of Kentucky equine science and management undergraduate students. They happen in the barns and businesses that make up the equine industry and are taught by industry stalwarts like Matt Koch, co-owner of Shawhan Place in Paris.
Koch is an alumnus of the College of Agriculture, Food and Environment, advisory committee member for the college's equine programs and longtime supporter of the program's educational mission. UK Ag Equine Programs named him as the 2016 Friend of UK Ag Equine Programs Sept. 6 at Spindletop Hall in Lexington, honoring him for his years of multifaceted support of UK Ag Equine Programs, even before its debut in 2005, with a special emphasis on the impact he has had in multiple students' lives and careers. Many recognize him as a catalyst for and a part of many important milestones of the program.
When former student interns describe the impact he has had in their lives, the same themes surface. Mentorship. Guidance. Generosity in sharing his time and knowledge. Koch was recognized as Intern Supervisor of the Year at the same reception in 2015, nominated by alumna Courtney Schneider, who, after two internships and years of being mentored as an undergraduate student, is now a full-time employee with Shawhan Place.
"Matt took me under his wing the summer after my freshman year. At the time, I knew I had a passion for horses and the Thoroughbred industry, but I had never had the opportunity to act on that passion," Schneider said. "Throughout my college career, Matt continued to be a great role model for me. I stayed in touch with him and worked for him on and off and throughout all of the sales. He always made a genuine, conscious effort to make sure his interns had every opportunity to learn and do things they've never done before."
In addition to his role in undergraduate mentorship, Koch was recognized by the program for his leadership and advice.
"Matt's phone call is always one you want to take. He will have an idea for something new or a way to improve something we are already doing. We are glad to have the advice and counsel of this great leader in the Thoroughbred industry," said Dean Nancy Cox. "This award is for friend, but Matt has become a key adviser to our program and has helped us find ways to prepare students for careers. He has also championed the need for a business approach to the equine industry in Kentucky and was one of the first to approach the university in support of the Kentucky Equine Survey of 2012."
Koch was nominated for the award by Jill Stowe, past director of UK Ag Equine Programs and faculty member within the college's agricultural economics department.
"What makes UK Ag Equine Programs unique is that it is as broad as it is deep, as it encompasses teaching, research and extension. What makes Matt so unique is that he has provided significant support in each one of the areas with the intent of making the program better. He works hard, is true to his word and epitomizes what it means to be the backbone of the industry," she said.
The Friend of UK Ag Equine Programs was created in 2005, when the program was called the Equine Initiative, to recognize a member of the public who had provided advocacy, funding or other extraordinary support for the UK College of Agriculture, Food and Environment's equine programs or a college or university employee who had generated an exceptional relationship with stakeholders that manifested into a new program, new advocacy success or new resources for the program.
Past Friends of UK Ag Equine Programs include Bennie and Cheryllee Sargent, of Sargent Quarter Horses and coach of the UK Equestrian Team, western division; Stuart Brown, a Lexington-based veterinarian specializing in equine reproduction with Hagyard Equine Medical Institute; Norm Luba, executive director of the North American Equine Ranching Information Council and current chair of the UK College of Agriculture, Food and Environment's Equine Advisory Committee; Dan Rosenberg of Rosenberg Thoroughbred Consulting; Northern Kentucky county extension agent trio Don Sorrell of Campbell County, Dan Allen of Kenton County and Jerry Brown of Boone County; and David Switzer, former executive director of Kentucky Thoroughbred Association/Kentucky Owners and Breeders Association.
For more information about UK's Ag Equine Programs, visit www.ca.uky.edu/equine.
Author: Holly Wiemers
Contact: Holly Wiermers 859-257-2226