Preliminary Results for New Herbicide for Warm Season Grass Control in Horse Pastures
Preliminary Results for New Herbicide for Warm Season Grass Control in Horse Pastures
Information was provided by University of Kentucky Department of Plant and Soil Sciences members Bill Witt, PhD, professor emeritus; in conjunction with Chi Jing Leow, senior at Asbury University and UK Horse Pasture Evaluation Program intern; Krista Lea, MS, coordinator of the University of Kentucky's Horse Pasture Evaluation Program; and Ray Smith, PhD, professor and extension forage specialist.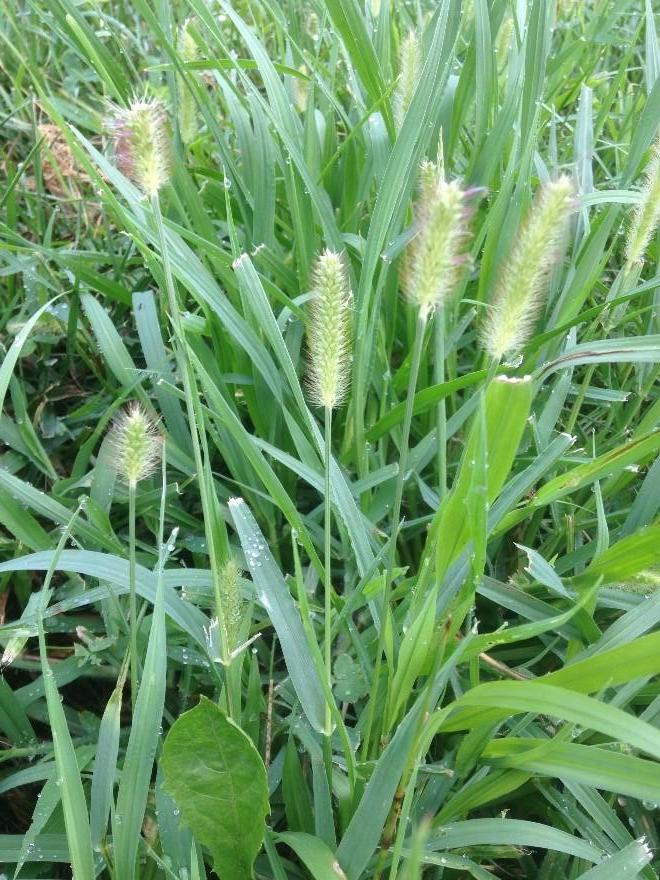 Warm season annual grasses pose a major challenge in Kentucky horse pastures over the summer. They tend to germinate in areas where perennial cool season grass stands are thin from overgrazing, low soil fertility or inadequate rainfall.
Some, like crabgrass, have good forage quality and are readily grazed by horses, but others, like yellow foxtail have little to no forage quality. Foxtail also has long hairs on the seed heads – called awns – that have been known to embed in horses' gums and cause irritation or sores.
Regardless of species, warm season annuals hold space where you would prefer to have cool season perennial grasses, and since they die out after frost, there is bare soil all winter.
Until recently, no herbicides have been available to control warm season annual grasses in perennial cool season pastures. Prowl H2O is now labeled for use in cool season grass pastures and researchers are working to understand how best to utilize it on Kentucky horse pastures.
Bill Witt, PhD, professor emeritus within the University of Kentucky's Department of Plant and Soil Sciences partnered with the UK Horse Pasture Evaluation Program to run a series of plot studies on Lexington-area horse farms. Mill Ridge Farm and Shadwell Farm both generously supported the research, financially and by providing use of land. Asbury University senior Chi Jing Leow collected the data as part of his senior research project and internship with the Horse Pasture Evaluation Program.
Prowl H2O was sprayed at two different rates and three different application dates during the spring of 2019 in a randomized complete block design at two locations. No injury of cool season grasses was observed at either location. Yellow foxtail populations were low in 2019, but crabgrass was well controlled using higher rates of Prowl H2O and when sprayed at the earlier dates. Plots were then over seeded in early September with orchard grass, Kentucky bluegrass and perennial ryegrass. Germination of these grasses was low due to the drought conditions last fall, but no herbicide injury was observed. The herbicide label states to wait 10 months before over seeding grasses in the fall, but during this research the waiting period was four months. The study is being repeated again this summer to determine if the waiting period on the label can be reduced.
This herbicide is a pre-emergent, meaning it kills below ground seedlings. Therefore, it must be applied before germination to be effective. Witt recommends application between mid-April and mid-May for an average year, though the optimal timing is highly variable. The important thing is to apply before any warm season annual grasses start to germinate. One rule of thumb is that when annual grasses start to germinate in warm spots, like along a driveway, the south face of a building, etc., then it's time to spray. Apply 1.1 to 4.2 quarts per acre. It can be applied as sequential treatments 30 days apart, but not to exceed a total of 4.2 quarts per acre per year. There are no grazing restrictions for horses or beef cattle.
While this new product could be a real benefit to horse farms, it can have some unintended consequences. Many managers likely do not realize how much crabgrass their horses graze on over the summer. Prowl H2O applications will reduce crabgrass, therefore additional hay feeding may be required because the crabgrass is not available for horses to consume. Additionally, removing crabgrass may increase grazing of cool season grasses, creating a thinner fall stand. Preliminary work shows that nimblewill may also benefit from Prowl H2O applications because it can spread into bare areas typically held by warm season annual grasses. Nimblewill spreads primarily by stolons, therefore will not be injured by this herbicide.
Because crabgrass and foxtail are removed, pastures treated with this herbicide may be thinner going into fall and winter, so good grazing management, soil fertility and potentially over seeding will be needed to thicken stands. The best way to prevent the germination of warm season annual grasses or any other unwanted plants is to maintain a thick stand of desirable cool season grasses. Always read and follow all label instructions before applying any pesticide.